Feeling the pressure?
Can't make it to the bathroom in time?
Jonhy Wee unisex pee bag – the mini toilet to go perfect for women, men and children.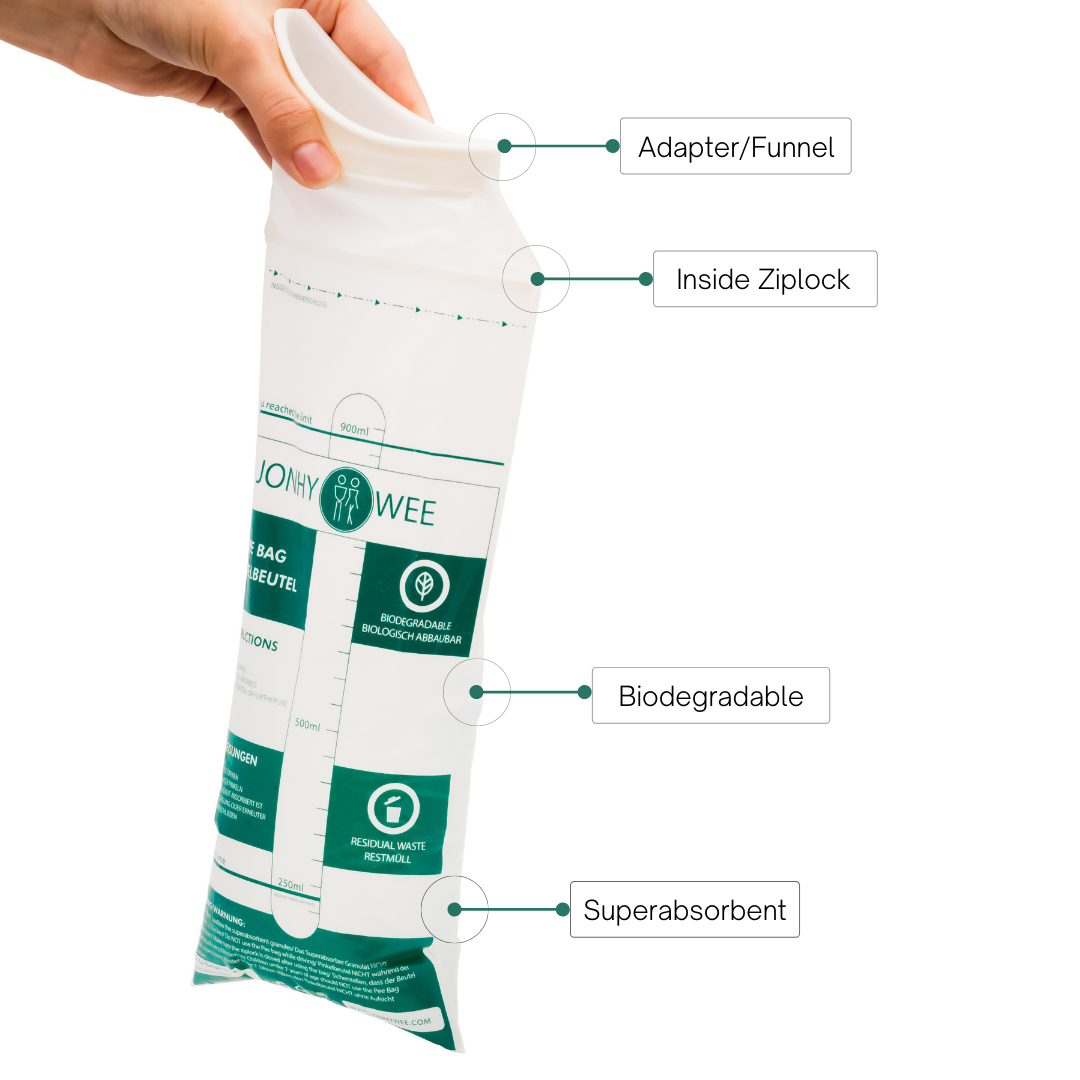 Jonhy Wee Pee bag – Biodegradable
Gender-friendly
Fits into every pocket and handbag
100% liquid is turned into solid gel
Leakproof! No bacteria, no smell
Biodegradable
Minitoilet, travel toilet, urine bag oder simply Pee bag, Jonhy Wee is your trustworthy companion to go.
From now on, women can pee standing!
Absorbent inside the bag turn the urine instantly into gel. No bacteria, no smell!
Jonhy Wee is small and convenient, it fits easily into every pocket or handbag.
We are all familiar with the common problem – you need to use the bathroom but there is no toilet in sight. What do you do? If you can't hold in any longer, there is now a fantastic solution for women, men and children.
Discreet, convenient and compact enough to take everywhere, Jonhy Wee pee bag is your ideal emergency toilet for the use in vehicles, for adults and kids stuck in a traffic jam; for truckers and bus drivers staying at parking areas overnight; for boat rides with friends and small aircrafts. Especially at your favourite music festival and community events (e.g. carnival, street parades) when access to public toilets is limited, Jonhy Wee is your trusted companion.
Our mission: The most environmentally friendly mini toilet/emergency toilet for women, men and kids.
It is also a great alternative to bedpans and urinal bottles for the elderly and infirm, since Jonhy Wee is a hygienic urine bag that does not leak or smell. If you experience incontinence or you have difficulties finding a disability-friendly bathroom, Jonhy Wee helps to have a complete peace of mind.
When you are out and about, there is no guarantee that there will be a toilet nearby, but with Jonhy Wee in your glovebox, handbag or pocket, you won't need to worry. Whether you are potty training toddlers, caring for a handicapped relative or just want the reassurance of having somewhere to go, Jonhy Wee is your number one product for your number ones.